Katherine Johnson: The Life and Legacy She Left Behind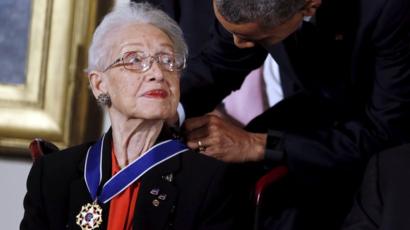 Katherine Johnson, one of the most influential African American scientists and mathematicians ever, just passed away on February 24th , 2020. She left a legacy that many will look to recreate, and she was an inspiration to millions of people. Many know the story "Hidden Figures" but don't know the rest of her story.
Katherine Johnson was born on August 26, 1918 in White Sulphur Springs, West Virginia. She showed strong mathematical abilities by the time she was 5 and went to a private high school for African Americans when she was only 10. She graduated high school at 14, and enrolled into West Virginia State University.
She spent the next few years taking all math classes available at her school and mentoring some of her past teachers. Johnson became a teacher, then went back to school and enrolled into a graduate math program. During her time in the program, she became pregnant, and had to leave to focus on her family. 
She then became a "computer" for the National Advisory Committee for Aeronautics (NACA). This was her job for the next 5 years. Johnson was originally assigned to the West Area Computers; then she was reassigned to the Guidance and Control Division of Langley's Flight Research Division, which was run by white male engineers. 
Johnson worked for that group until her retirement in 1986. She was the key role in sending Alan Shepard into space, who was the first American to enter space. Then, when it was John Glenn's time to go into orbit, the new electronic computers failed, and Johnson was called upon to figure out the correct numbers and calculations, which she achieved. 
She then spent the rest of her career calculating for NASA and helping with the "Apollo 11" mission in 1969. She helped with many other missions that NASA was doing. Johnson lived an eventful, entertaining, and magnificent life, that many are not aware of.
The story of Katherine Johnson is something special. She was an African American woman who lived in a time when segregation was severely present. Even though segregation and discrimination were always a factor in her life, she pushed through it and focused on her mathematics, and indeed she is a hidden figure.