NFL Preseason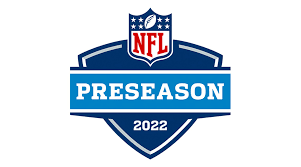 With the NFL almost starting up regular season football, Preseason is here and is giving opportunities to show some new raw talent, rookies getting to prove themselves and even some undrafted free agents.
Rookies are a big part of why mediocre teams of last year could be playoff contenders this season. For instance one of the keys to Super Bowl Contenders Cincinnati Bengals was Ja'Marr Chase, wide receiver who had one of the best rookie seasons of all time. With preseason rookies are given a chance to prove themselves and see who can be a top tier player.
Preseason can end a player's rookie seasons with injuries/ According to Oakdale High School (OHS) Sophomore TJ Bon, "Sometimes even in preseason games players can get hurt." 
There are two ways that a player's career could end: getting into legal trouble,or getting a lifetime injury that affects their whole career, potentially causing them to  retire. This means that whoever starts in a preseason game can matter more.
According to OHS Sophomore Drew Landro, "Kenny Pickett had one of the biggest impacts on his team this season." Kenny Pickett was the 20th pick of the first round in the 2022 NFL draft and has been showing the Pittsburgh Steelers whose quarterback room for this year's draft was a mystery.  He was the only Quarterback drafted until Desmond Ridder in the third round, then Malik Willis, and Matt Corral.
This year's wide receiver class was also crazy (2022 NFL Draft Picks). Just in the first round of the draft, 8th pick Drake London- USC, 10th pick Garrett Wilson- Ohio State, 11th pick Chris Olave- Ohio State, 12th pick Jameson Williams- Alabama, 16th Pick Jahan Dotson- Penn State, 18th pick Treylon Burks- Arkansas. All these wide receivers have the potential to have a breakout season and become a number one WR for their team.
As far as veterans, this year has had too many Quarterback moves and some are good and some are bad (Quarterback Moves). Russel Wilson, Baker Mayfield, and Carson Wentz have an opportunity to show that they are a top 10 Quarterback with their new weapons.
Russel Wilson is one of the oldest Quarterbacks in the NFL and after going to the Denver Broncos he has lost some really good Widerecivers in Seattle but all gained some new good ones with Courtland Sutton, Jerry Jeudy, and KJ Hamler but lost Tim Patrick for the season. 
Baker Mayfield is in his 5th year with a new team and is ready to win against his former team on week 1 of the regular season. In Cleveland Mayfield  had no one to pass to, but now in Carolina he has DJ Moore, Robbie Anderson, Laviska Shenault Jr. Mayfield is also behind a new young and powerful offensive line with rookie Ikem Ekwonu and Christian McCaffrey coming back from injury. 
Carson Wentz has a lot to prove to the Washington Commanders this year.  He has to be a top tier quarterback or else he will be on the bench. Wentz is behind a good offensive line and had three outstanding wide receivers Terry McLaurin, Curtis Samuel, and Rookie Jahan Dotson. Wentz is expected to have a good season this year.
With preseason at an end and regular season around the corner, trades, free agent signings, and player cuts. are coming up as well. With one of the best free agent signings ever in NFL history, this should be a good year of football.